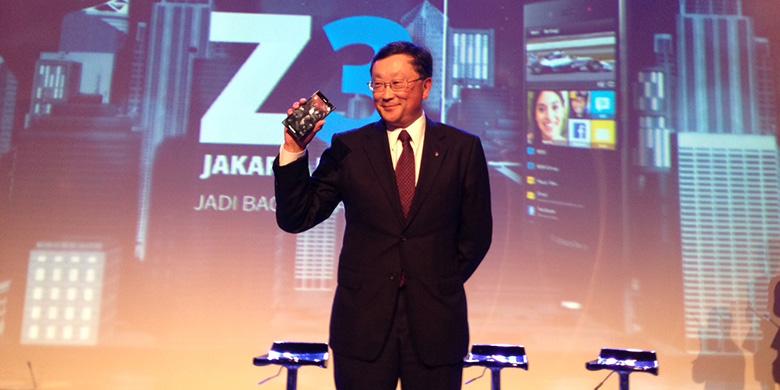 BlackBerry has launched a new smart phone , the BlackBerry Z3 , for the Indonesian market on Tuesday ( 13/04/2014 ) .
The company also provides a special version of the BlackBerry Z3 " Jakarta Edition " , but only in very limited numbers .
BlackBerry only provides 25 thousand units Jakarta BlackBerry Edition .
Distribution of this device priority for the Indonesian market .
In terms of design and specification , limited edition product was identical to the standard edition of the BlackBerry Z3 .
However, no text reads " Jakarta " on the rear panel .
BlackBerry CEO John Chen , is not sure whether the company will increase the number of stock BlackBerry Edition Z3 Jakarta .
" We have no plans to produce more, " he said .
Z3 is the first BlackBerry BlackBerry mobile phone , assembled by manufacturer Foxconn , once in 2013 and the two announced a partnership for the next five years .
BlackBerry Z3 optimistic Company will be successful in Indonesia .
Because , according to Managing Director BlackBerry Indonesia , Maspiyono Handoyo , the product is customized by the behavior of Indonesian people who like to interact on social media .
" BlackBerry Z3 inspired by Jakarta . We also install this product for an affordable price , also long battery life , " said Maspiyono .
Mobile is priced at $ 200 USD This design comes with a full touch screen size of 5 inches .
The screen supports a resolution of QHD ( 960 x 540 pixels ) .
This device running the BlackBerry operating system that allows users to install 10.2.1 Android application format . APK .
Zing in it is powered by a Qualcomm Snapdragon processor 400 1.2 GHz dual - core Cortex - A7 , 1.5 GB RAM , and internal memory capacity of 8 GB which can be expanded with a MicroSD external memory .
On the back there is a 5 megapixel camera .
Meanwhile , on the front there is a 1.1 megapixel camera .
BlackBerry also buried features FM radio on this phone .